Add Style and Shade to Your Outdoor Entertaining Area with Folding Arm Awnings
At Blind Concepts, we offer folding arm awnings that provide shade to your outdoor living area without the need for any supports, channels or rods. These are compact systems that fold away neatly and easily and are available in cassette and standard variations. Our range of folding arm awnings online can also be motorised and can be installed with sun, wind and motion sensors. These awnings will add style and provide maximum shade to your outdoor space.
Whether you have a large outdoor entertaining area or a tiny terrace, folding arm awnings can be the perfect solution to transform your outdoor space. These awnings serve as excellent roll away covers for your home's balcony, deck or patio. Besides, they also make a great choice for commercial spaces such as cafes and restaurants. Today, a wide array of folding arm awnings is available online and can be used to set up an elegant outdoor living room, which is effectively shielded against sun and rain.
Automated Systems for Smooth Functioning
Folding arm awnings are designed to be operated smoothly with the help of motorization or functioning crank. However, motorization offers ultimate luxury and ease. Some of the models are also available with the sensors, such as wind and rain sensors. These models can also be integrated with home automation systems and other sensors in case of those who seek high-tech solutions.
The arms of these awnings fold horizontally and once the motorised awnings are retracted, your outdoor area will be free of any structures. Our awnings are designed for efficient heat check and can be either manually rolled as per the angle of the sun or can be automated. We present you with an exhaustive range of folding arm awnings online.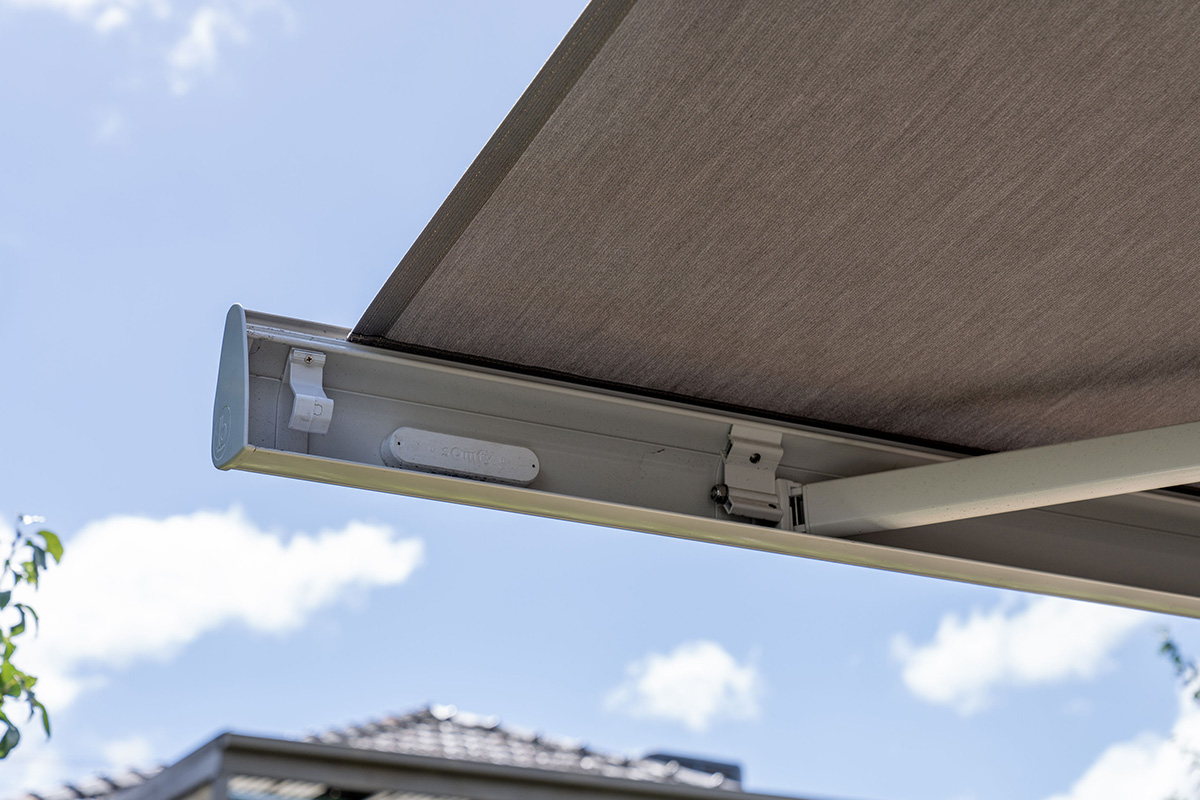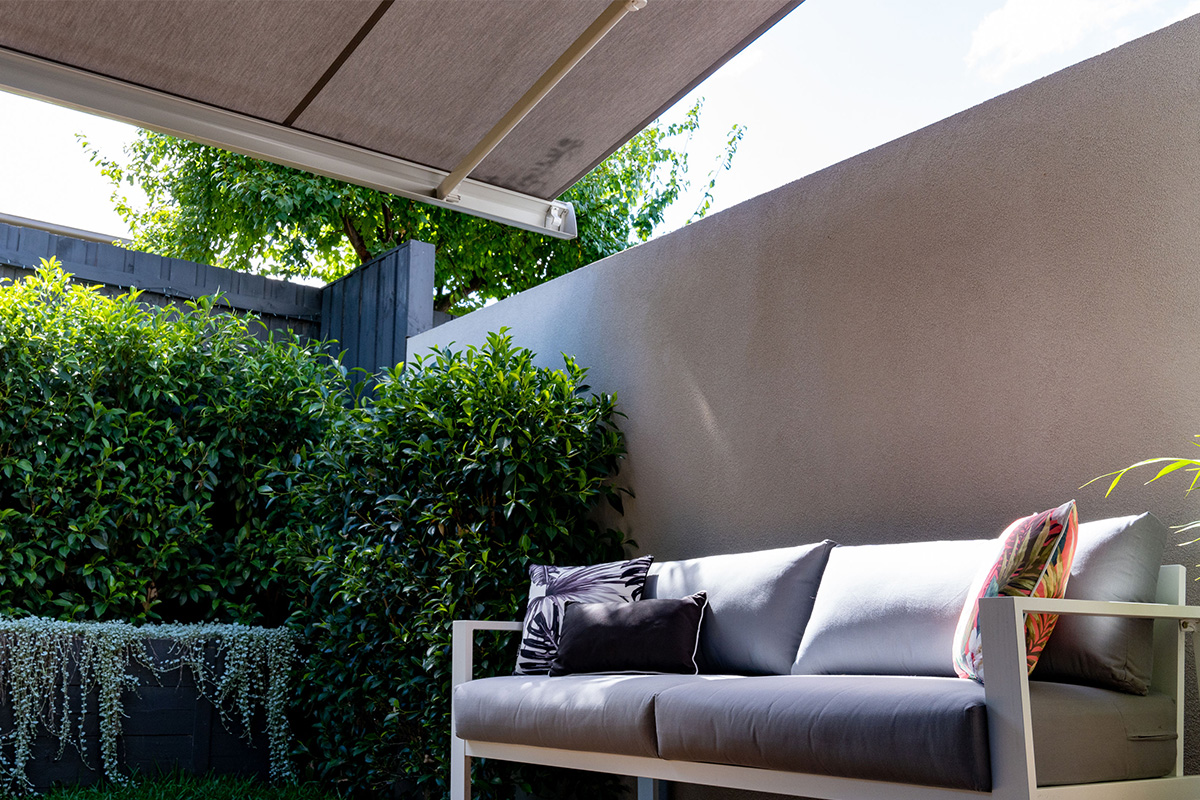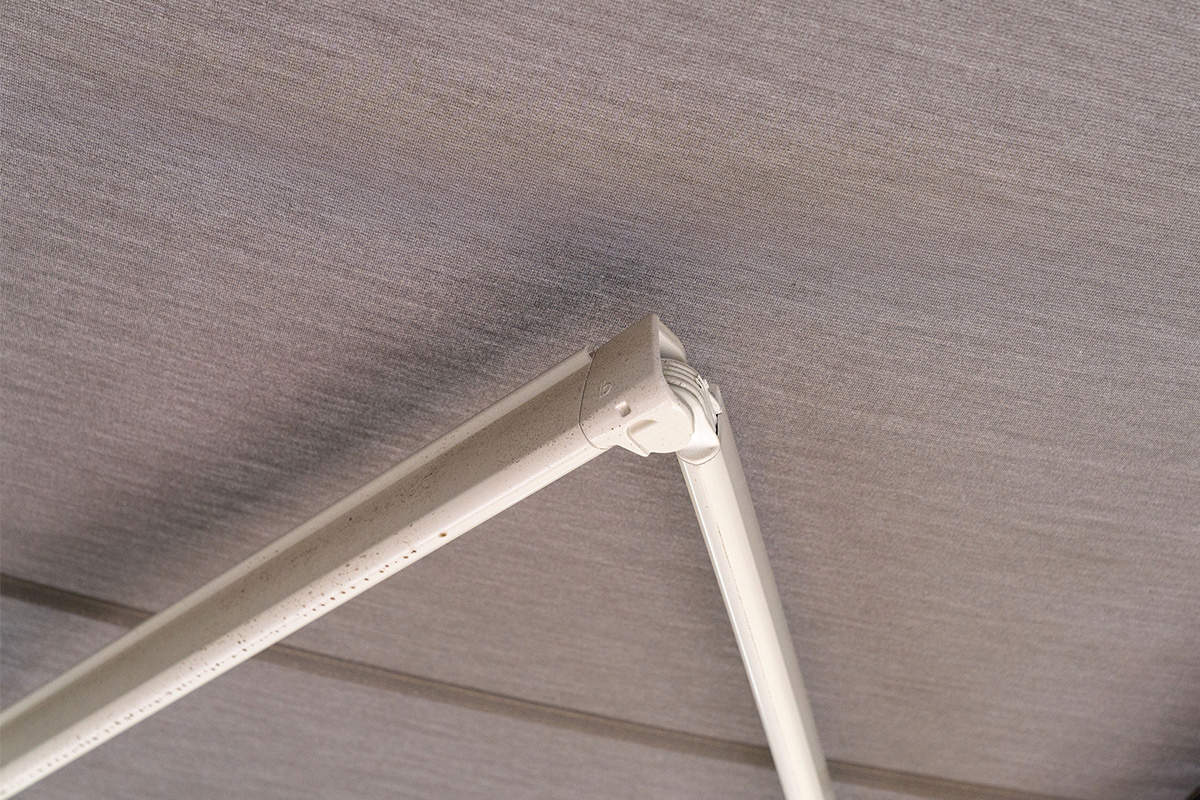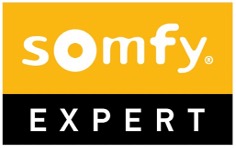 Choose Blind Concepts for the Best Folding Arm Awnings
Our folding arm awnings are of top quality and are designed using cutting-edge technology. We use highest quality materials and are yet reasonably priced, providing you with the cost benefit. If you prefer remote control for your awnings, then we can assist you with that as well. Our sun and wind sensors can also be additionally installed to provide added protection against harsh environmental elements.
If you have made up your mind, then just get in touch with us by calling us on 03 9720 1778. Our professionals would love to address your queries.
Discover the Time-Tested Elegance of Siena® Folding Arm Awnings
20+ Years of Italian Inspiration: The Siena® Folding Arm Awning (FAA) family has its roots in Italian design and boasts a rich pedigree dating back over two decades. This long-standing tradition of excellence makes it the ideal performer even in the challenging Australian environment.
Proven Performance in Australia: Our awnings have been tried and tested in Australia for years, proving their resilience and suitability for the local climate. Their unique design offers a range of advantages that set them apart, including:
Unique 8-Link Stainless Steel Arm Chain: This feature, superior to most on the market, offers a thicker and stronger chain, engineered to provide peace-of-mind arm strength.
Heavy-Duty Internal Arm Springs: These springs ensure significantly greater arm and fabric tension, resulting in a smooth, taut fabric surface.
Endless Customisation Options: The Siena® FAA range provides an extensive range of options to meet your specific needs, including:
Spans from 2m to 15m Wide: Our awnings cover a wide range of spans, making them suitable for various outdoor spaces.
Pitch Range from 0-90°: With a pitch range set at installation, these awnings offer versatile solutions, from horizontal to vertical.
User-Friendly Pitch Adjustment: Select models offer pitch adjustment options for user-friendly customization.
Versatile Installation: These awnings can be installed in various configurations, including face, fascia, roof, eave, and top fit.
Front Rail Gutters and Extruded Pelmets: Front rail gutters come standard on all models, and you have the option of aluminum extruded pelmets, providing the ultimate in design performance.
Available Colors: Choose from a range of elegant colors, including White, Ivory, Silver, and Onyx, to match your outdoor decor and preferences.
Siena® Folding Arm Awnings are known for their built-in 8-link stainless steel chain technology, heavy-duty internal spring arms, and wide spans of up to 15m with 4m projections. With adjustable pitch control, front rail extension options, and extruded aluminum pelmets, these awnings are the epitome of design and performance.
With their sleek design and smooth operation, they set the benchmark for what folding arm awnings should be. Affordable, robust, and versatile, the Siena® FAA family provides a premium look and lasting results for your outdoor space.
Introducing Our Elegantly Designed Sienna Full Cassette Retractable Awnings
Sleek European Design: Experience outdoor elegance with our retractable awnings, boasting a sleek European design that seamlessly enhances and protects your outdoor living spaces year-round.
Eco-Friendly: Embrace environmentally friendly living with awnings that provide shade, reducing the need for energy-intensive cooling solutions.
Unmatched Arm Strength and Stability: These awnings are engineered for superior arm strength and stability, ensuring they can withstand varying weather conditions.
Motorized Convenience: Effortless operation is at your fingertips with motorized control and a convenient remote, making it easy to adapt to changing sunlight conditions.
Optimum Sun Protection: Ideal for acrylic fabrics, our awnings offer premium sun protection, allowing you to enjoy your outdoor space without the worry of harmful UV rays.
Specifications:
Size: Available in sizes up to 4.9m x 3.5m
Construction: Crafted with precision, using powder-coated aluminium and steel for durability and longevity.
Features: Equipped with an 8-link arm chain that provides superior strength and reliability.
Operation: These awnings come in a full cassette design, fully enclosed with no need for an additional pelmet. Motorization is recommended for optimal performance.
Installation: Available as Face or Top Fit installations with mounting brackets designed for end mounts.
Colours: Choose from an array of stylish colours, including White, Ivory, Silver, or Onyx, and explore custom powder coating options to suit your unique style.
Our retractable awnings are more than just a shading solution; they're a statement of sophistication and performance. Embrace eco-conscious living while enjoying superior sun protection, unmatched.
Sleek European Design: Our retractable awnings are not just functional; they're a stylish addition to your outdoor space, boasting a sleek European design that enhances aesthetics.
Year-Round Outdoor Living: Elevate and protect your outdoor living area throughout the seasons. Our awnings offer all-year-round comfort and are environmentally friendly.
Superior Strength and Stability: These awnings are engineered for superior arm strength and stability, ensuring they can withstand various weather conditions.
Effortless Operation: Operating our retractable awnings is a breeze. Choose between manual control or motorized operation with a convenient remote control.
Optimum Sun Protection: Ideal for acrylic fabrics, our awnings provide optimum sun protection, allowing you to enjoy your outdoor space without the worry of harmful UV rays.
Specifications:
Size: Available in widths up to 5000mm and Projections of 1500, 2000 & 2500mm
Construction: Powder-coated extruded aluminum Front Rail & Arms with stainless steel hardware
Features: Aluminum front rail efficiently channels water to the edges of the covered area
Operation: Standard as Manual Crank Op, with a Motorization Option available
Installation: Versatile installation options including Face Fit, Fascia, Eave, and Roof Mount
Colours: White frame finish for a clean and modern look
Options: Choose between Colorbond Pelmet or Aluminum Extruded Powder-coated Pelmet for added customization.
Enhance your outdoor living space with our retractable awnings, combining style, functionality, and eco-friendliness. Embrace year-round comfort with a solution that offers superior strength, easy operation, and optimum sun protection.